It's been a good year musically so far. I completed an anti-discrimination song I am proud of, Love Will Always Find A Way. Over the summer I was selected as a finalist in the Susanne Millsaps national songwriting contest. I played this song and my signature Rum Runner during the finals competition held at the Utah Arts Festival. I also competed in the Utah State Finger Style guitar championships, held at the Ogden Music Festival. I was very happy with my performance in both contests!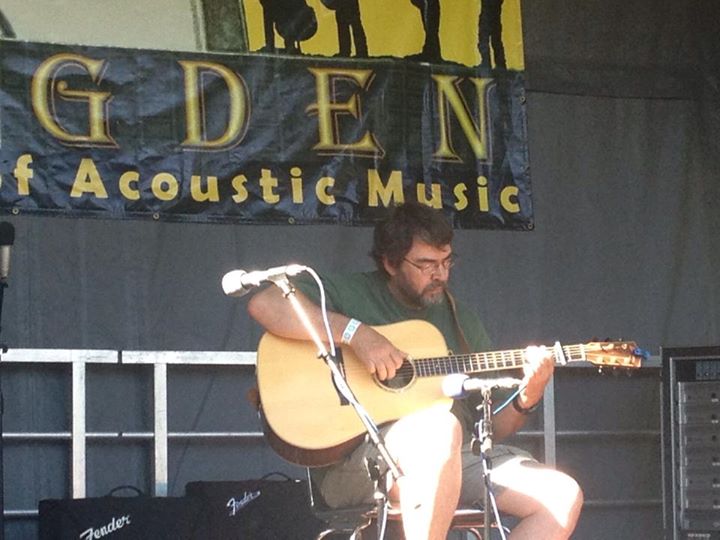 This summer I had a concert at Carolyn's Magic Garden concert series, in mid-July. This is my favorite house/garden concert venue ever, and Carolyn is a wonderful person whom I am proud to call a very close friend. She also happens to have taught both of my boys in 6th grade. I never would have started playing out in public if she hadn't pushed me onto the stage at the Alchemy Open Mic four years ago. I found that I like playing for an audience so much that I am now coming up on three years of hosting that same weekly open mic, and a year ago I completed my first CD, Storm On The Mountain. A second CD is in the works.
Earlier this month I had the opportunity to open at Ricochet House Concert's for Caroline Aiken, who has toured nationally for many years. What a treat! Ricochet is hosted by another good friend of the music community (and a songwriter herself), Ruthie Naccarato.
This summer I got to spend time learning more about the song writing craft from a couple of acoustic music luminaries, John McCutcheon and Salt Lake's own Kate MacLeod.
Last weekend I played in the
last ever
Acoustic All Stars. What a great time, and so much wonderful talent on hand! A big shout out to Fat's Grill for once again hosting the event.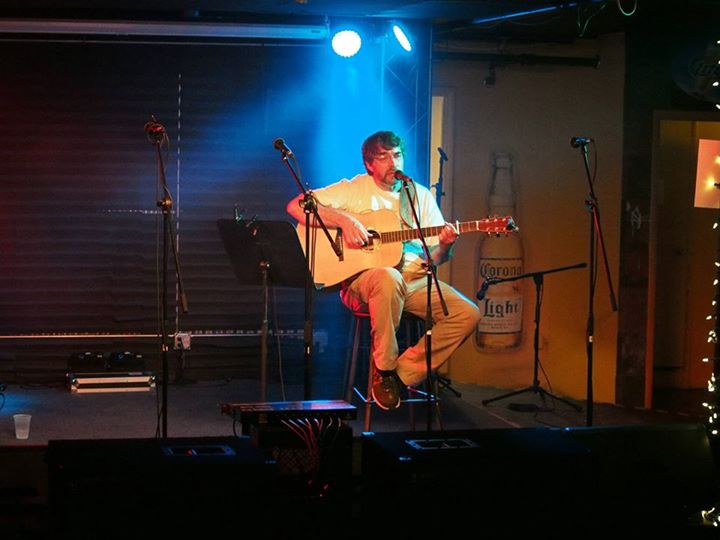 Finally, I've started playing regular gigs at Cafe Galleria, in both the Midway and Murray locations. This has been a great opportunity for me, and along the way I met a couple of new friends who were  on vacation all the way from PA, Michael and Deborah Shaw. Michael even made a video of me playing John Denver's "Country Roads" to his wife. This was the first song I ever learned, way back in Greenville, NC during my college years. It's been posted to YouTube, and I have added it to this website. So very cool!
It's been a great year in other ways as well. I've gotten reconnected with my youngest son, and we've been gym climbing on a regular basis. He has gotten so good! I always knew he would climb beyond my abilities at some point, he's always been a natural, but now I can't even get on the climbs he's doing. But, I've been working hard at it, getting stronger, losing some weight, building up my finger and forearm endurance, and it's starting to show. If you were to look at my hands after a climbing session you might say it is painfully obvious. Emphasis on the "painfully". But it's never as bad as it looks, and I love it too much too stop, so I've just had to find ways to make the rock climbing and finger picking worlds live together.
Alaska. I finally gave in to the travel bug I've always had and spent two weeks in that wild and beautiful place. I want to go back! But...numero uno on my hit list has always been New Zealand. Now I have to find a way to make it happen. Let me know if you have some good ideas!!
Thanks, all for now. I'll have a new post soon.
BOB